China opens up to foreign b…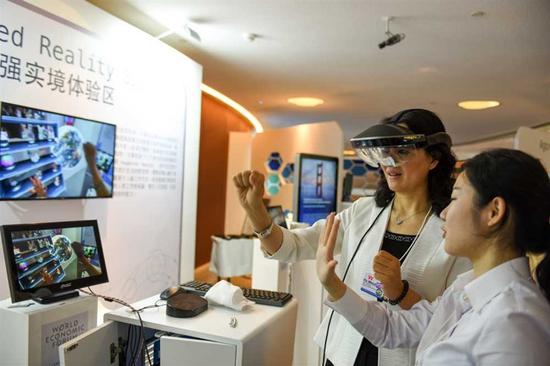 A guest at the Summer Davos tries out head gear at the augmented reality show area during the summit in Dalian yesterday. In a speech, Premier Li Keqiang said China had achieved better-than-expected results in driving mass entrepreneurship and innovation. — Xinhua
CHINA is to increase access to the service and manufacturing sectors, relax restrictions on foreign ownership and treat Chinese and foreign companies on an equal basis, Premier Li Keqiang said yesterday.
He was speaking at the opening ceremony of the Annual Meeting of the New Champions 2017, also known as Summer Davos, in the northeast port city of Dalian.
China will be proactive as regards opening up and create a business environment that is internationally competitive, Li added.
To make it easier for foreigners to set up enterprises, China will test a process whereby Chinese and foreign companies can register at the same place, Li said.
Domestic and foreign companies will also enjoy the same policy support when doing business in China.
"All companies registered in China will be eligible to enjoy the same supportive policies that China offers in accordance with WTO rules to push forward the 'Made in China 2025' strategy and promote technological innovation," he said.
Foreign companies are encouraged to use profits from the Chinese market to invest in China, he said, but they can choose to take their profits out of China without restriction. "[Foreign-funded firms], I believe, will reap generous profits if you reinvest what you earned here in China," Li said.
China will also encourage multinational corporations to set up regional headquarters here, and encourage foreign firms to invest more in central, western and northeastern parts of the country, Li said.
The premier also said the Chinese economy, with its steady, long-term growth and gradual openness, will generate more opportunities for other countries, and China will remain the most attractive destination worldwide for investment.
In the next five years, China will import goods worth US$8 trillion, he added.
Countries must safeguard economic globalization to achieve inclusive growth, Li said. Free trade should be the basis of fair trade, he said. Holding back free trade would not bring fair trade.
Trade disputes should be dealt with according to the different situations in different countries, Li said.
"Based on the principal of equal consultation, mutual understanding and accommodation, as well as equal treatment without discrimination, countries must seek convergent interests and complement each other's advantages to achieve win-win results," Li said.
"Neither should we impose unilateral rules on others, nor politicize fair trade," he said.
Li underpinned the positive role of globalization in promoting the free flow of merchandise, capital and human resources, which creates a bigger market for producers and more choices for consumers that benefit all countries.
The problems facing different countries are not due to globalization itself, but because of an inability to address it, he noted. "It does not make sense to blame the rough road and stop moving if I sprain an ankle."
It is advisable to adapt to and better guide the direction of globalization, safeguard the authority and effectiveness of multilateralism, promote free trade and investment facilitation, reform global economic order to ensure all countries enjoy equal rights, opportunities and rules, he said.
Li said China is fully capable of delivering the year's major growth targets, thanks to steady economic transition.
The Chinese economy has become more stable and sustainable, and has made progress in restructuring and improving efficiency, he said
The government set the GDP growth target at around 6.5 percent for the full year, while pledging to pursue better results in actual economic work. In addition, China will keep its consumer price increases at around 3 percent and the registered urban unemployment rate within 4.5 percent.
THE world's second largest economy posted a forecast-beating growth rate in the first quarter, with GDP up 6.9 percent year on year, the quickest increase in 18 months.
A number of financial institutions, including the International Monetary Fund, have upgraded their China forecasts and Li attributed the stellar performance to the country's ongoing economic restructuring.
China neither took strong stimulus measures nor followed the old investment-driven and resources-reliant path, but strived to innovate and reform in its drive toward an economic shift to consumption and services, Li said.
Consumption contributed 64.6 percent of GDP in 2016, while the tertiary sector accounted for 51.6 percent of the economic growth, with domestic demand becoming a significant pillar of the economy.
Li did not shy away from challenges.
"Short-term and small fluctuations of economic indicators are unavoidable but the long-term steady trend will not change," he said, ruling out the possibility of a hard landing.
China will continue to propel its supply-side structural reform, streamline administration, delegate power to lower levels, grant easier market access, push forward entrepreneurship and innovation, downsize saturated sectors, and stimulate consumption, he said.
China had achieved better-than-expected results in its efforts to drive mass entrepreneurship and innovation. The number of market entities in China increased by a daily average of 40,000 in the past three years, he added.
During that period, the premier said, 14,000 enterprises were registered every day on average, with about 70 percent of them active in business, and the number of new enterprises rose to 18,000 a day in May.
He described mass entrepreneurship and innovation as an effective way to realize inclusive growth, saying the process engages and benefits people extensively.
New growth momentum, including new industries and new business models, contributed around 70 percent of all new jobs created in the country's cities last year, he said.
"Inclusive and prudent regulation" by the government has fostered rapid development of emerging industries and business models including e-commerce, mobile payments and bike sharing, Li said.